Modern Techniques for Modern Players
Soccer is a popular sport across the globe, and OliverSoccer brings the sport to Northwest Arkansas. Our highly qualified coaching staff works with young people to develop skills, knowledge and a love of soccer. Our camps and clinics offer patient instruction from a skilled, professional coach. Our coaches have coached soccer in various parts of the world and have worked with all ages and skill levels. Modern techniques for modern players is what young NWA players will find at OliverSoccer!
About OliverSoccer
OliverSoccer is a premier soccer training and coaching organization that focuses on coaching young people in the rules, techniques and skills for the game of soccer. Located in Northwest Arkansas, OliverSoccer offers affordable camps for children and teens in both the summer and winter at easily-accessible locations in Fayetteville, Arkansas. We also offer clinics during Spring Break for players from age 5 to age 14.
Our soccer coaches and trainers guide the young soccer players with patience and skill as they instill a love of the sport accompanied with the right skills needed to play the game. We teach sportsmanship and team building at the same time that we teach soccer.
We truly believe in offering modern training techniques for modern players!
Our Experienced Coaching Staff
Our coaching staff has experience with all ages and skill levels. The coaches have worked throughout the United States and abroad.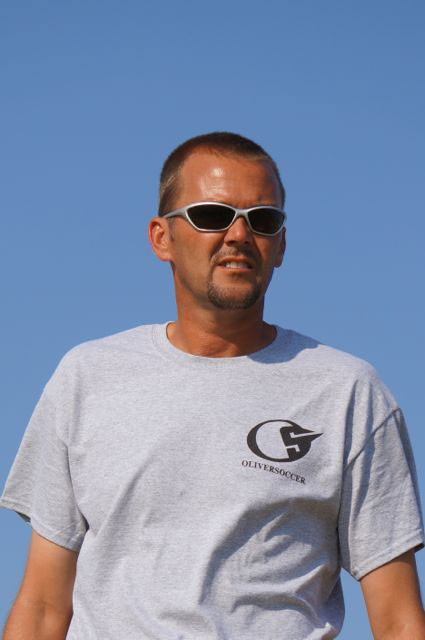 Coach Oliver
Coach Oliver's love for soccer and coaching experience shine as he works with young soccer players from all over Northwest Arkansas. He has coaching experience at many levels, including professional, high school, and Olympic development. Coach Oliver continues his work with area youth as the Director of Coaching for the Arkansas Comets and as the high school coach for Fayetteville High School.
His coaching experience includes working with soccer teams in several countries such as the United States, England and Ireland. Coach Oliver truly brings an international flair for soccer to Fayetteville.
Coach Oliver's experience is supplemented with extra training and education. A keen student of the game, Oliver holds a UEFA 'A' license (the premier European coaching qualification) and an IFA Goalkeeping Diploma.
Andy McMoran
Terry Foley
Marvin Johnson
Alan Kirkup
Mike Devaney
Scott Collins
Josh Duncan
Chris Carwille
David Knox
Rick Ternes
Scott Rainer
U18 Northern Ireland Coach
DOC for FC Virginia
FC Virginia Coach
University of Florida Girls Coach
Bentonville High School Boys Coach
Florida Gulf Coast University Coach
Fayetteville HS Boys Coach
Fayetteville HS Girls Coach
Episcopal Academy (Philadelphia, PA) Coach
Bentonville High School Boys Coach & Trainer
Fayetteville High School Girls Coach
Modern training techniques for modern players!